You are destined for more. You deserve more energy, mental strength, happiness, and success.
It all starts with having a *system* for self-improvement that you'll stick with!
Sign up now for a free, no-risk trial of GrowthDay and get the $300 High Performance Habits Builder advanced online course as a special bonus!
Reignite your life and achieve your potential faster with GrowthDay, the world's #1 system for self-improvement.
300,000 achievers use and love our famous personal growth mindset journal, life assessments, personal growth courses, and goal setting system. It's your ALL IN ONE SYSTEM for personal development.

LIVE weekly classes

from the world's highest-paid motivational speakers, life coaches, and wellness experts to help you get unstuck, re-energize your life, become more productive, and ADVANCE YOUR LIFE. (They charge $50k for a keynote - you get them LIVE every week!)

Free 14-day trial and $300 habit course UNLOCKED NOW

! No risk - start journaling, tracking your habits, and watching LIVE inspiring teachers right now. Let's get you more motivated, confident, productive, and growing!
Start a Free Trial
These speakers charge over $50,000 per keynote. You get them
LIVE or on-demand every week

in GrowthDay to help you stay motivated, focused, confident and succeeding!
Brendon Burchard, 3-time New York Times bestseller and the most respect name in personal development for over a decade!
Trent Shelton, the legendary motivational speaker and host of Straight Up with Trent Shelton!
Bossbabe founders Danielle Canty and Natalie Ellis, who built one of the largest brands for ambitious women in the world!

Mel Robbins

: New York Times bestselling author of "The High 5 Habit" and "The 5 Second Rule." (Mel's challenge and classes are now on-demand!)

Jamie Kern Lima

:

Billionaire founder of IT Cosmetics and author of the

New York Times

bestselling book, "Believe IT!" (On demand)

David Bach

:

The world's leading personal finance and wealth teacher with ten

New York Times

bestsellers!

(On demand)

Lori Harder, host of Earn Your Happy podcast!
Lisa Bilyeu, co-founder of the billion-dollar brand Quest, and host of Women of Impact!

Anthony Trucks

:

Former NFL athlete, American Ninja Warrior, international speaker and founder of Identity Shift coaching

Jenna Kutcher

:

Host of The Goal Digger podcast, the #1 marketing podcast in the country

Jonathan Fields

:

Mindfulness expert and host of the Good Life Project

Gloria Atanmo

:

Creativity expert, designer, Instagram star, and activist

(On demand)

Mel Abraham

: Thought-leader to entrepreneurs around the world, financial expert, business strategist, and author

Alex Ortner

:

Co-Founder of The Tapping Solution

(On demand)

Koya Webb

:

Holistic Health Coach and Wellness Instructor

Dr. Daniel Amen

: O

ne of America's leading psychiatrists and brain health experts, and bestselling author (On demand)
More than a DOZEN world-famous mentors and coaches joining inspiring you LIVE in GrowthDay! (included in Pro or All-Access memberships)
Get Motivated Now!
GrowthDay Exclusive:

Receive Daily Life Coaching from Brendon Burchard, the World's #1 High Performance Coach!

$5000 Value! This exclusive daily coaching audio is featured on your GrowthDay app dashboard. Brendon helps you stay focused, make the tough decisions, get disciplined, and achieve more progress faster than ever before!
Oprah Winfrey Network
"He's one of the most influential leaders in personal growth. And he's one of the most successful online trainers in history."
Jay Shetty
"Brendon is one of the top coaches in the world, an incredible speaker and author. His work was so refreshing to me. He's really been there for me on this journey."
Tom Bilyeu
"He's widely recognized as the world's leading high-performance coach. The world's most successful people have enlisted him as their coach. He's the guy millions of people turn to when they want to breakthrough to that next level."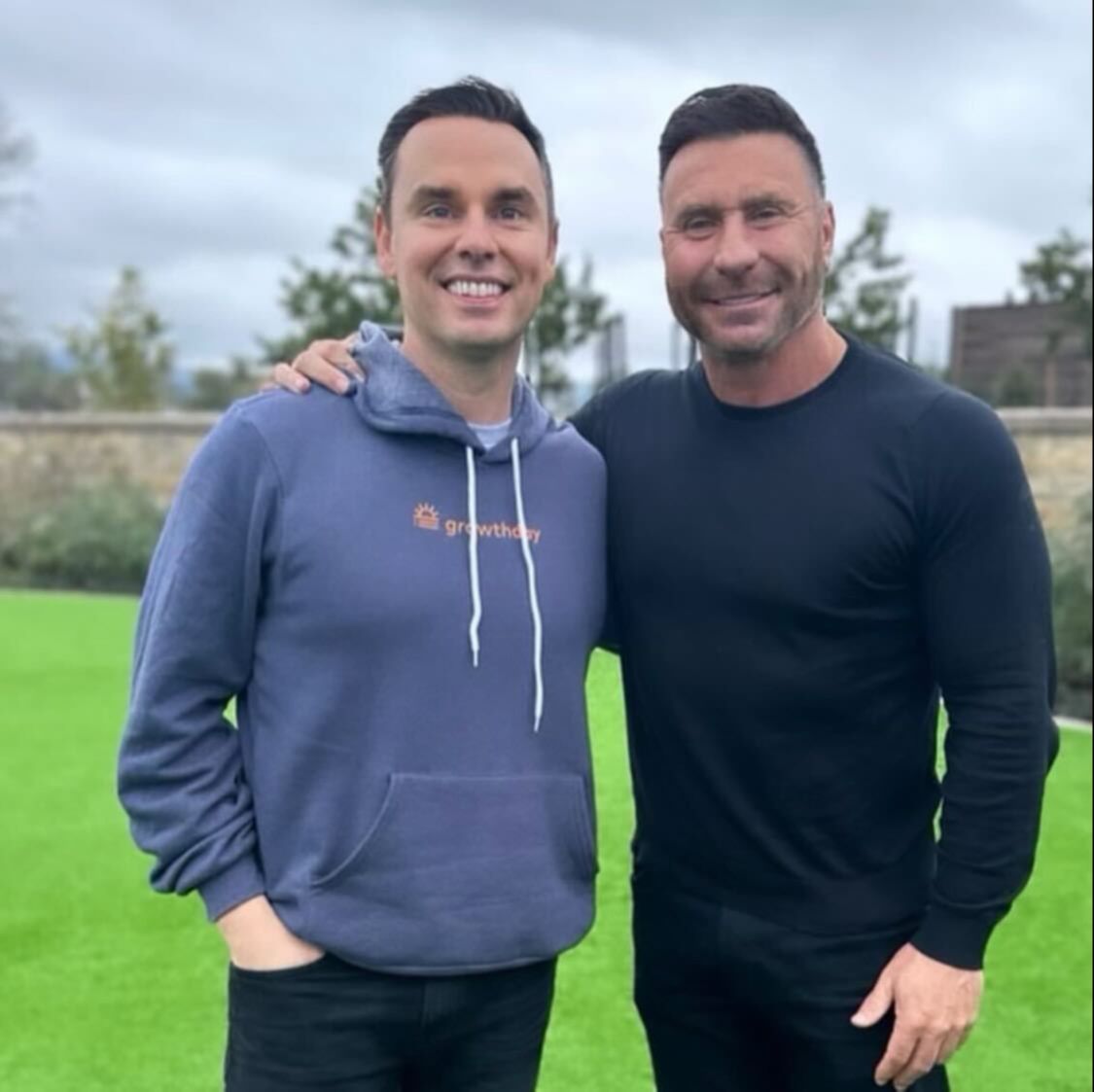 Ed Mylett
"[He has] a unique energy… like nobody I know. [He's] affected millions and millions of people for decades… and is a leader amongst the leaders in personal development. Other leaders look to [him] for guidance and counsel."
GrowthDay Features 4 Essential Tools Everyone Needs for Self-Improvement
1.
Life assessments and habit tracker help you score and improve the most important areas of your life.
Score your habits and get custom video recommendations to improve every area of your life. We help you score your habits every day, week and month to dramatically increase your focus, growth and self-mastery.
Join GrowthDay Free
2.
The world's best digital mindset journal develops self-awareness, positivity, confidence and gratitude.
Over 100 research-backed writing prompts for your morning mindset, evening review, and weekly reflection. You don't have to know what to write - we load prompts for you!
Start journaling free with GrowthDay
3.
Goal-setting system keeps you focused and more productive with ease.
Set your goals, break down tasks, create your checklists, and set reminders to stay on track. Finally, all of your goals, journaling, and habit-tracking in ONE SYSTEM!
I'm ready to crush my goals!
4.
LIVE classes and on-demand coaching from the world's top speakers!
Renowned speakers, life coaches, business leaders, and wellness coaches charge over $50,000 per keynote. You get them LIVE every week in GrowthDay (for Pro and All-Access members). Speakers include Brendon Burchard, Trent Shelton, Mel Robbins, Jenna Kutcher, Lori Harder, Lisa Bilyeu and more!
I'm ready to crush my goals!
What Our Famous Teachers Say...
Personal growth is THE secret key to lasting happiness and success. You just need a new system to help keep you focused, happy, centered, productive and growing!
Save tens of thousands of dollars and get
LIVE classes and coaching

to change your life!

GrowthDay membership gets you exclusive access to teachers who usually charge $50,000 to $100,000 per speech! GrowthDay has one live every week!
Start GrowthDay Free Trial
Stop feeling alone in your ambitions for a better life.

You've always wanted a positive community to support you, share with, learn from, and stay accountable. Join 300,000 achievers from around the globe and feel motivated again!


Get GrowthDay System - Free Trial